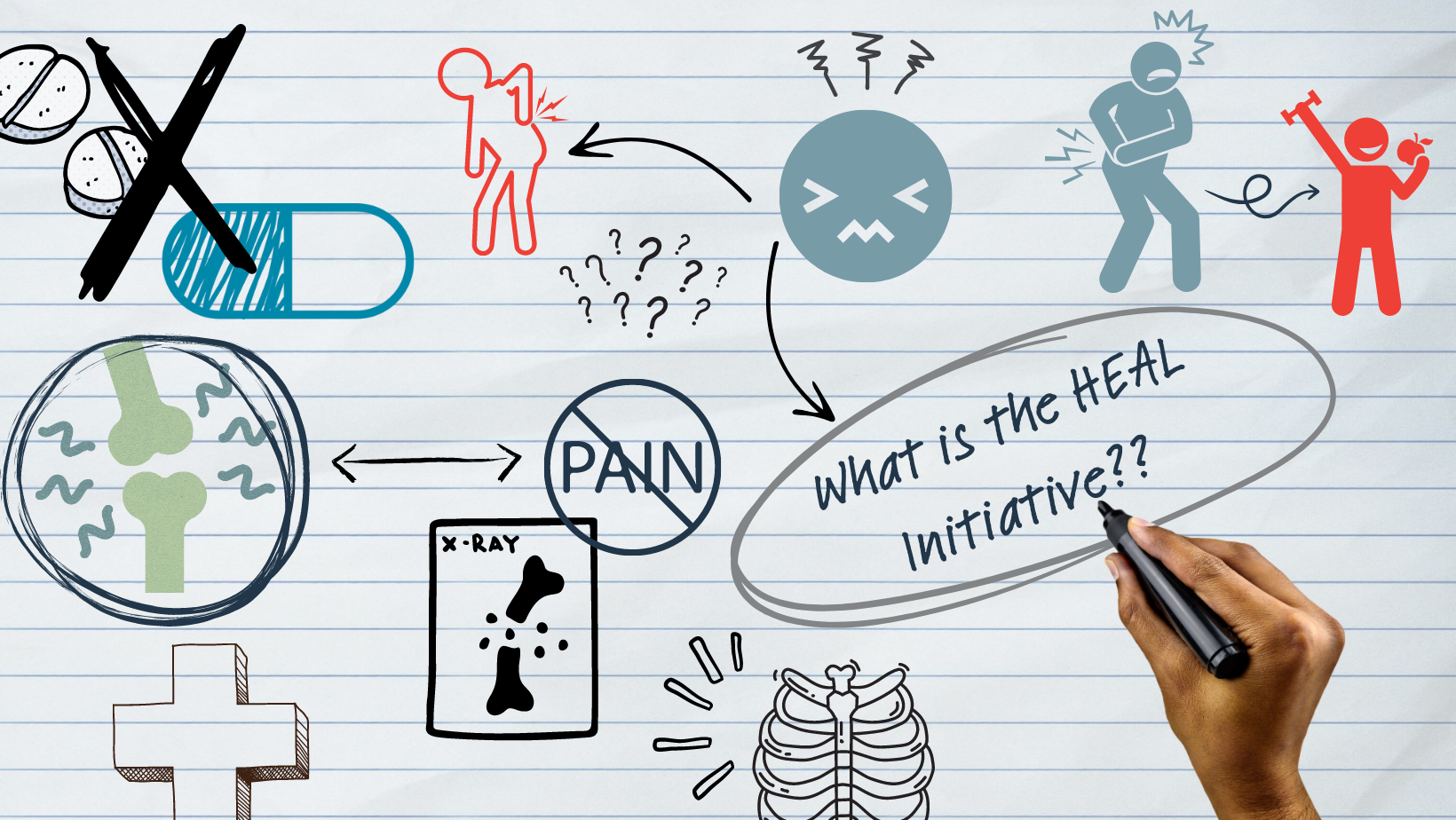 While chronic pain is a very individual problem, it also costs society at large so much: lost hours in productivity, wasted dollars on ineffective treatments, strain on the health care and insurance systems, and the collective impact on people living with pain in the areas of work, socialization, mental health, and more.
Recent efforts are placing higher priority on understanding chronic pain and how to effectively treat it. One large-scale example of those efforts is the Helping to End Addiction Long-term® Initiative, or NIH HEAL Initiative®, spearheaded by the National Institutes of Health (NIH).
"The HEAL Initiative was launched in 2018 in an effort to pull together all of the different resources in the biomedical research community—the scientists, the patients, providers, people with lived experience, private sector partners, federal partners—all working together to provide scientific solutions to opioid and poorly treated pain crises, recognizing that that means durable, long-term, and meaningful solutions for people with pain," explains Rebecca G. Baker, PhD, director of the NIH HEAL Initiative, in the Office of the Director, NIH. Baker and two prominent researchers spoke during a Pain Awareness Month webinar highlighting current HEAL research.
Recognizing that the nation desperately needed new and effective treatments for both substance use disorder (SUD) and chronic pain, Congress directed funding to the NIH to urgently address these twin public health problems. To date, more than $2.5 billion has been devoted to the HEAL Initiative since 2018, which has funded almost 1,200 research projects in all 50 states, and 314 clinical trials (more than 100 of which focus on back pain, a leading cause of chronic pain). HEAL funding is roughly half a billion dollars annually split between SUD research and pain research.
Notably, the initiative represents a collaboration among government, researchers, patients, and the private sector, so that the findings of that research can be put into practical and clinical use and begin helping individuals with chronic pain without unnecessary delays.
"We know as researchers that we can't do this alone," Baker shares. "Our job is to bring science and innovation, but we need to be working with people's lived experience, and we need to be working with the broader community to bring that research to life."
Back pain, post-traumatic headache, and more: Current research projects
Among the topics these research projects are exploring are neurobiological targets for future pain therapeutics, as well as clinical research using electronic health record systems to test the integration of complementary and multidisciplinary treatment approaches in real-world settings, such as acupuncture and mindfulness. The HEAL initiative is also investigating pain management options for specific conditions such as kidney disease, cancer, sickle cell disease, and more.
The prevalence of low back pain has made it a major area of focus of the HEAL initiative. The program's funding helped establish the Back Pain Consortium, a large multi-site center where researchers are looking at how to create models for patients with lower back pain to predict what types of treatments may work best for different patients.
Afton Hassett, PsyD, a clinical psychologist and associate professor and Director of Pain and Opioid Research in the Department of Anesthesiology at the University of Michigan—where some of the research is being carried out—calls this question "the biggest conundrum that we have as clinicians and other people who work directly with patients with chronic low back pain and other chronic pain conditions."
"No single treatment really works well for most patients," Hassett shares. "We can say about a third of patients respond well to our tested and proven treatments." The program's goal is to improve on that number by creating a state-of-the-art model that will identify factors that predict who will respond well to what treatment.
Another focus of research is headache pain. Post-traumatic headache is the most common symptom following concussion, affecting between 1.3 and 3 million Amercians each year. It is known that individuals who are treated early, before pain becomes chronic, have better outcomes, said Catherine Chong, PhD, associate professor of neurology at the Mayo Clinic in Arizona.
"But there is currently no way for us to predict who is going to recover quickly and who is not," she shares. For that reason, Chong is part of a group of researchers who are attempting to identify a biomarker signature that can predict the persistence of post-traumatic headache. 
Individualized solutions to a widespread problem
"We know that many people who experience pain don't receive high-quality care," Baker says. What the HEAL initiative is doing to help bridge that gap, she explains, is identifying and sharing promising approaches and information with both private-sector partners and the broader clinical and research community.
Already, several of the programs funded as part of the HEAL initiative have made progress toward the goal of collaboratively advancing solutions for pain. Research findings identifying signatures in how individuals respond to pain may be used to develop personalized pain treatments. Researchers investigating chronic low back pain are developing a predictive algorithm for personalizing treatment. And the NIH's private-sector partners are exploring technology such as a wearable muscle to support the back, in addition to gene therapy and wearable sensors as potential therapeutics.
The HEAL initiative is ongoing—patients can visit the HEAL website to find a list of the current clinical trials and even sign up for one. Ultimately, the aim of this comprehensive undertaking is to discover safe, effective, and nonaddictive treatments for pain, and to reduce the risk of developing chronic pain in the first place. In that way, addressing pain at the individual level can lead to a solution that benefits everyone.
-Jill Waldbieser
To learn more about the U.S. Pain Foundation's Pain Awareness Month initiative, click here. 
The U.S. Pain Foundation's 2023 Pain Awareness Month campaign is made possible through the generous sponsorship of Vertex Pharmaceuticals and Lilly. The contents in the article are those of the author(s) and do not necessarily represent the official views of, nor an endorsement, by the NIH, or the U.S. Government.
Subscribe to our newsletter
All Content Copyright 2021 | All rights reserved. U.S. Pain Foundation is a qualified 501(c)(3) tax-exempt organization. Disclaimer