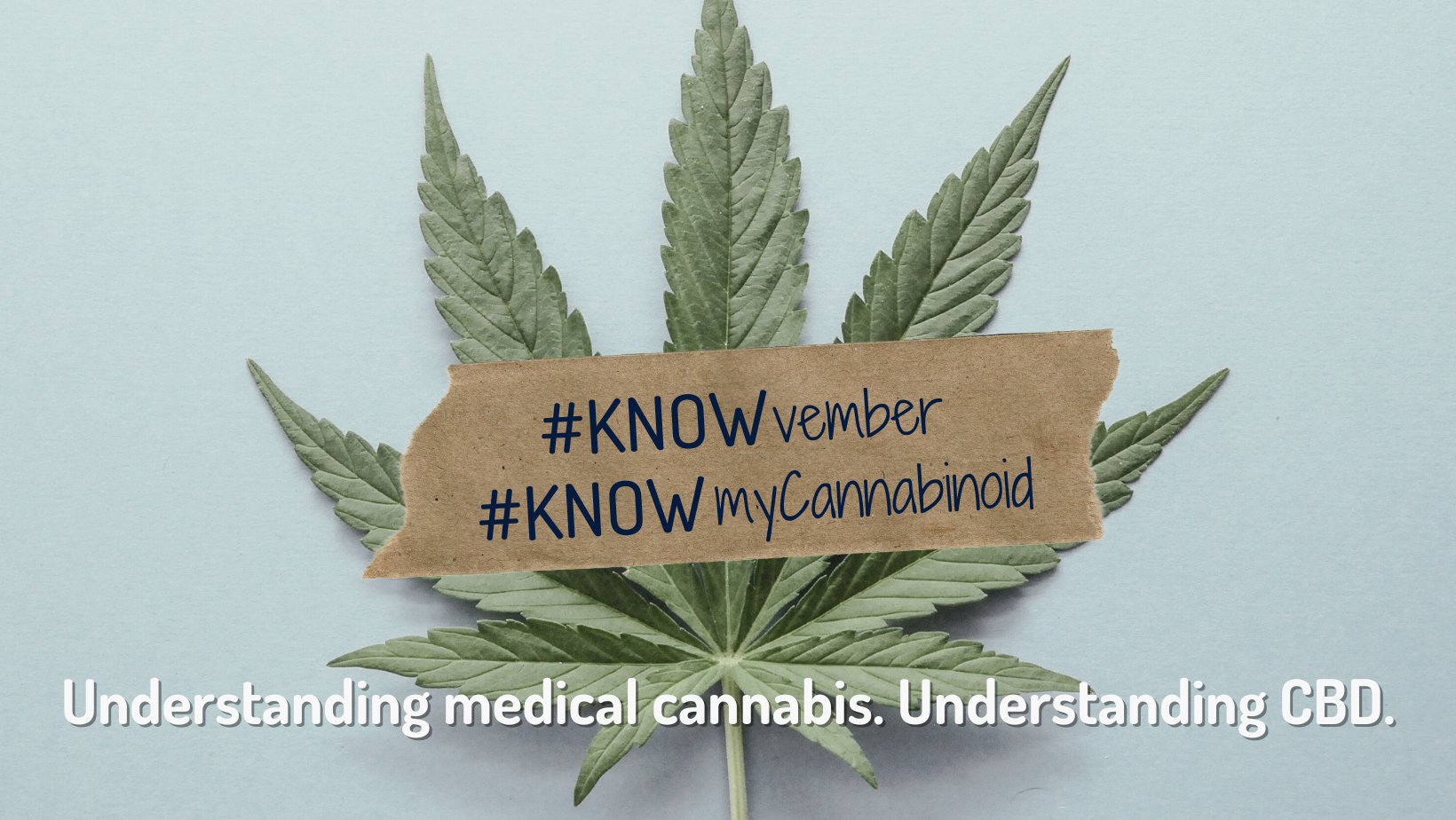 The world of using CBD, THC, and other cannabinoids as medicine can be a murky and confusing one. This KNOWvember, U.S. Pain Foundation is exploring this topic with our #KNOWmyCannabinoid educational campaign.
"The chronic pain community deserves to know about the power of cannabinoids," said Nick Difrancesco, founder and chief executive officer of PurWell, the platinum sponsor for KNOWvember. "It's not just about relief; it's about reclaiming life. With [cannabinoid products] as your allies, you can take control of your pain management journey."
Follow us throughout the month for educational articles, informational webinars, illuminating statistics and facts on social media, informative guides, a CBD raffle, and more. Keep checking our KNOWvember page, and follow our Facebook, Instagram, and Twitter. Be sure to use the #KNOWvember and #KNOWmyCannabinoid hashtags when you share on social media!
Learning about Cannabinoids
Cannabis is a species of plant that makes an abundance of compounds called cannabinoids. The two most common are tetrahydrocannabinol (THC) and cannabidiol (CBD).
Products categorized as cannabis, or marijuana, contain more than 0.3% THC. Medical cannabis is used to help manage pain, seizures, insomnia, nausea, low appetite, and other medical issues.
Products categorized as hemp, often called CBD products, contain less than 0.3% THC. CBD is used to help manage pain, seizures, inflammation, anxiety, and more. While "hemp extract" is sometimes used to describe CBD products, they are different from hemp-seed oil. Hemp-seed oil is often used in cooking or for industrial purposes, and it is not CBD.
Other cannabinoids that are used in various ways to manage pain include cannabinol (CBN); cannabigerol (CBG); cannabichromene (CBC); Delta-8 tetrahydrocannabinol (Delta-8 THC); Delta-9 tetrahydrocannabinol (Delta-9 THC); and Tetrahydrocannabinol acid (THCA).
In addition to cannabinoids, cannabis plants create compounds called terpenes — oils that make the plant smell a certain way. Some cannabis terpenes also have been studied for their effects on managing pain and inflammation.
Full-spectrum cannabis and CBD products contain all of the compounds in a cannabis plant — all cannabinoids and terpenes. These products offer what is referred to as the "entourage effect." It is believed that when all cannabinoids and terpenes appear together in a product, they work together to enhance the product's effects.
Cannabinoids work by interacting with the endocannabinoid system — the human body's regulatory system that deals with key functions such as pain sensation, memory, hunger, emotions, stress, and the immune system.
Medical cannabis, CBD, and other cannabinoids can be administered in a variety of ways and are used to help manage many conditions and symptoms. While CBD is federally legal, medical cannabis is only legal in some states.
It is important to discuss cannabinoid use with your health care providers, as different types may be better for different conditions, and some products can interact with certain medications.
Act Quickly to Participate in Our Raffle
This month, individuals who participate in KNOWvember will have an opportunity to win cool U.S. Pain swag and a complimentary sample directly from one of our sponsors.
To be eligible to enter the raffle for a chance to win, you must:
—Register for one of our informational webinars. You can attend live or re-watch the recording afterward (through Zoom, not Facebook), but you must have pre-registered for the webinar before it takes place to qualify. Register here for Be in the KNOW: Medical Cannabis and You (1-2:30 p.m. ET TOMORROW, Thursday, Nov. 2), and register here for Be in the KNOW: CBD and You (1-2:30 p.m. ET, Wednesday, Nov. 9).
—Re-share two social media #KNOWmyCannabinoid facts
—Re-share, or share a link to, either a cannabinoid educational guide or a KNOWvember article on social media
Once you have completed all requirements, fill out this form to be entered into the drawing. The randomized drawing will take place on December 5.
Hear From Our Sponsors
We asked our sponsors about the importance of awareness of cannabinoids in the chronic pain community, what they would like the public to better understand about cannabinoids, and common myths they want to dispel. Here are their responses:
—Jared Stanley, co-founder and chief commercial officer,
Charlotte's Web
: "According to the CDC, more than 51 million Americans suffer from chronic pain. Chronic pain is a complex issue, especially with its variable causes, the complexity of the associated symptoms, and patients developing tolerance to conventional medical treatments. Due to this, scientists and researchers have been looking for alternative means to address chronic pain. A growing number of preclinical and clinical studies have indicated the potential benefit of naturally derived cannabinoids for chronic pain. Further investigation and trials into cannabinoid's therapeutic value are ongoing due to its natural source, accessibility, and relative safety."
—Jon Altschuler, founder and chief cannabinoid officer,
Herbie
: "One of the main points I hope to convey to people considering using cannabinoids for their pain is that not all cannabinoid-based products are alike AND not all people's pain is alike. This means that the first product you try may not work as well for you as it did for someone else. Although this can be frustrating, a little bit of homework will lead you to a more positive outcome. First, make sure that the product you're interested in has a Certificate of Analysis (CoA) available. This will show you the amount and type of cannabinoids and other compounds in the product. If it says 1000mg of CBD on the bottle, or 25mg of CBD per gummy, that's what should be on the CoA. You should also be able to read the ingredients of the product to ensure that there aren't a lot of fillers, sugars, artificial colors or flavors that may turn something 'medicinal' into 'candy.' If you can't find a CoA or the ingredients, that should be a red flag. Additionally, if a CBD product you tried didn't work well, try a CBG product instead. Depending on the type of pain you are experiencing, CBG may be a more effective option. Also, try different form factors. Tinctures and gummies are wonderful, but sometimes a topically applied balm, right at the area of pain, can be a more targeted source of relief."
—Nick DiFrancesco, founder and chief executive officer,
PurWell
: "There are safe and effective products that can help people address their symptoms, but it is so important for them to know that not all cannabinoid-derived or CBD-derived products are equal. They need to connect with trusted resources in order to be educated on what products may make the most sense to try given their current condition, and also be taught how to administer the product they do purchase, so they can achieve optimal results. There is a misconception that CBD or cannabinoids 'get you high,' and that is such a misunderstood piece of the hemp/cannabis puzzle. Yes, THC can cause a person to feel the euphoria or the 'high' associated with marijuana, but THC is just one of over 100 cannabinoids in cannabis, and the other 99% are non-intoxicating. The other misconception that needs to be clarified is that CBD is a fad or a gimmick, and that there are no medical applications to using it."
—Kymberly "KymB" Byrnes, co-founder and chief marketing officer,
TribeTokes
: "Plant medicine can help reduce pain and possibly reduce the amount of medication needed to be comfortable. It's all about having a better quality of life. Educating the chronic pain community with information on experimenting with dosing, strains and products to dial in what combination works best for each person's tolerance and needs is crucial. The main point is that there is substantial evidence that cannabinoids are an effective treatment for chronic pain, with CBD being known to reduce pain and inflammation. The misconception is that cannabis is going to make you high and unproductive. Using different cannabinoids can help you be more active and have a better quality of life. It's plant medicine that heals naturally."
Looking Ahead This November
As we look at how cannabinoids how work and their relationship to managing pain, we aim to:
Create a better understanding of cannabinoids

Addressing the need for access to safe, high-quality products and share information about testing and regulation

Discuss legality issues in different states and the need for more widespread access to medical cannabis

Provide education about the different types of cannabinoids

Highlight the lived experiences of individuals who live with chronic pain and utilize cannabinoids to manage it. 
It's time to really get to #KNOWmycannabinoid. 
Our 2023 KNOWvember campaign is made possible through the generous support of our sponsors:
Platinum sponsor, PurWell
Bronze sponsors, Charlotte's Web, Herbie, and TribeTokes.
Waiver and Release: The U.S. Pain Foundation independently developed the content without review from its sponsors. This information is for educational purposes only and may not be used as a substitute for advice from a health care professional. Consult with a licensed physician before using any medical cannabis/marijuana product or recreational cannabis/marijuana product. Please be advised that use and possession of such products are prohibited under federal law. Medical cannabis/marijuana products and recreational cannabis/marijuana products may be legal in some states and although federal enforcement may not be applied consistently at the present time, this is subject to change. By participating in this educational program, you agree that the U.S. Pain Foundation shall not be liable to you for any consequences, legal or otherwise for use or possession of such products at any time and in any jurisdiction.

. 
Subscribe to our newsletter
All Content Copyright 2021 | All rights reserved. U.S. Pain Foundation is a qualified 501(c)(3) tax-exempt organization. Disclaimer