By Janet Jay
The holiday season is here and with it, the need for gift ideas! If you've got someone with chronic pain in your life– or if you have chronic pain yourself– here are some ideas to make life a little easier. The products were selected by U.S. Pain Foundation staff, the majority of whom live with chronic pain.
1. Weighted blankets 
Sleep is essential to healing, but can be hard to come by for people in chronic pain. Weighted blankets are a great option– they can be surprisingly calming, especially for people with anxiety and depression-related issues that so often go along with chronic pain.
2. TENS (transcutaneous electrical nerve stimulation) units
TENS units, originally available by prescription only, have been used for years by people with all kinds of chronic pain. They work by sending a current through the nerves in the body that are causing pain, using the sticky pads to direct the current to exactly where they hurt. They are low-risk as far as side effects and affordable to try.
3. Thrive Tape
This unique brand of kinesiology tape is a thoughtful gift for someone with pain. Kinesio tape is elasticized material that can be applied to almost any area of the body to help support joints, muscles, and tendons. It also helps promote proper motion and alignment. Thrive Tape is different in that it includes a blend of minerals and ceramic powder, which release with heat from the body.
4. Epsom salts
Chronic pain is stressful. A nice bath can calm and relax you both physically and emotionally, especially when used in conjunction with aromatherapy and epsom salts. If you already have a preferred essential oil, you can mix it in yourself. Some epsom salts are available with scents like lavender and eucalyptus already infused.
5. Nuun tablets
Staying hydrated is important for everyone, but it's especially vital for individuals with chronic health issues (including postural orthostatic tachycardia and dysautonomia). Nuun tablets are awesome, portable electrolytes. Some varieties come with vitamins or caffeine, too. Simply drop a tablet into a water glass, and voila! An instant pick-me-up. Buy your loved one a variety pack so they can try a few flavors.
6. Theracane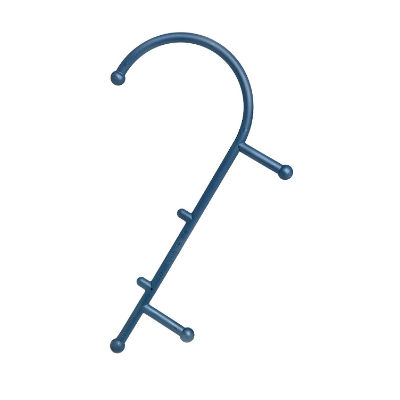 I wish I had heard about Theracane earlier! This cane-shaped plastic item allows a person to reach just about any muscle on their body to massage out knots and soreness or even do trigger point massage. It's a must for anyone in chronic pain who lives alone.
7. Dry shampoo
Self-care activities, including showering and washing your hair, can be challenging when you have chronic pain. Dry shampoo is a fabulous product that can help a person with pain go longer in between washes. Dry shampoos are powder-based, so they soak up excess oil, making hair look and feel cleaner without the time and energy needed for scrubbing, rinsing, combing and drying.
8. Axon sunglasses
When I get migraines my eyes are extremely sensitive to light, and Axon's migraine glasses have truly been a lifesaver. As soon as I put them on, I can feel my eyes relax; they let me extend the time I can be out and about in challenging lighting of all kinds and make a huge difference in how much discomfort light causes me during a migraine attack.
9. Acupressure mat
Some people swear by these acupressure mats. Even if you can't make it to an acupuncture clinic, this mat / pillow set can help you work out some pressure points and leave you looser and more relaxed. It's also very affordable.
9. Food delivery 
Everybody's got to eat, and chronic pain can make shopping for groceries and cooking difficult. One option is to gift a meal or grocery delivery service. Companies like InstaCart and Peapod can deliver groceries straight to someone's door. Others, like HelloFresh or BlueApron, send pre-packaged ingredients and recipes. (But note: the ingredients for the meal delivery companies still need to be chopped and prepared, so that might not be ideal if someone has severe pain.)
10. Arts and crafts items
If the person is up to it, crafts are a great option for someone stuck at home dealing with chronic health issues. Crafts can also be helpful distractions from pain. There are a million types of crafts, and there are beginners' kits available for each type. Not sure where to start? A coloring book makes a nice, simple gift that can help someone explore their creative side.
11. Gift cards for services

While physical gifts are awesome, there might be a way your present can truly save someone with a chronic condition from increased pain: by giving them a gift certificate for a service. For a lot of people with chronic conditions, the relief from an afternoon of maid service or a massage can far outweigh any gift you can wrap under the tree. LivingSocial or Groupon are great resources for deals on services like these. You can buy the service directly, or give the person a gift card to the site so they can pick their own.
Whatever you decide on, remember: chronic pain is hard–anything you do to show some love to someone living with it will be appreciated.
Janet Jay has been dealing with chronic pain and depression since she was in early high school. Despite these challenges, she's spent over a decade working in communications and freelance journalism, where she has been published in outlets like Maxim, Vice Motherboard, and Popular Science. She's also a writer for U.S. Pain Foundation and the INvisible Project.